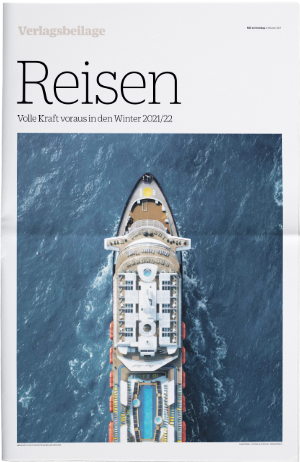 Publisher's supplement in the «NZZ am Sonntag» – with additional digital material in the multi-perspective dossier at «nzz.ch»
Publication
Sunday, 6 March 2022
Advertising deadline
Friday, 25 February 2022
Print material deadline
Monday, 28 February 2022
After the two premières in 2021, the NZZaS publisher's travel supplement «Reisen» will now appear four times in 2022: on 6 March, 29 May, 28 August and 27 November. Seasonally appropriate ideas and tips are suggested for the best time of the year. Whether it's a holiday at home, in neighbouring countries, away from the crowds in distant lands or on the seven seas or other waterways – the supplements will have something for everyone.
Companies can reach for their keyboards – or ask someone to write an article about them for publication in the «Reisen» supplement. The articles are rounded off with reports and features by freelance travel journalists. Supplements in the «NZZ am Sonntag» and the related multi-perspective dossier on «NZZ.ch» are not the work of the editorial staff but of our service-providers in the field of journalistic storytelling: NZZ Content Creation.
Potential subjects:
Holiday trends: Where is travel heading? Seven inspiring ideas for the summer.
Rail travel: Discover Europe's great cities by rail? The easy way to do it.
Switzerland: Skiing and snowboarding in spring? You can be sure of snow high in the mountains.
South Tyrol: How about a wellness hotel in the Dolomites? A few examples.
Holidays for the active: Already fit and ready to go for the next cycling, biking or golf season? Train by the sea.
Thematic tours: Living the green life? Gardens that you have to see once in your life.
America: East Coast or West Coast? Florida's beaches versus San Diego and Las Vegas.
Indonesia: On your bucket list? Bali must be on your list, especially in the dry season from May onwards.
All prices in CHF, gross, excl. 7.7% VAT.
NZZone
Our Key Account Manager will be happy to assist you.
Andrew Schuster
International Sales Manager
+41 44 258 12 63
andrew.schuster@nzz.ch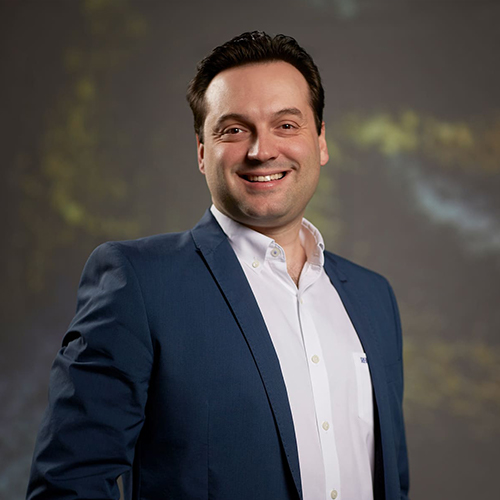 Newsletter registration
With the NZZone newsletter we regularly inform you about our activities and news.