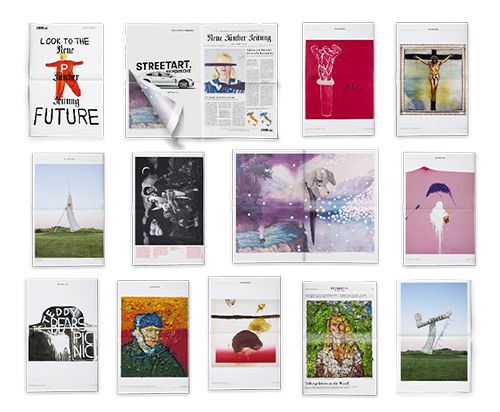 NZZ ART EDITION 2021
For the second time since its début last year, an artist will create a unique face for the "Neue Zürcher Zeitung" on 1 June 2021.
This year the Swiss artist Urs Fischer will curate a daily edition of the "Neue Zürcher Zeitung". He will not only design the front page, but also select works of art that will run throughout the entire edition and frame it. An extended version of the "Feuilleton" will be dedicated to the artist.
Further highlights: Urs Fischer's design for the front page plus a limited edition (NZZ Edition).
The NZZ Art Edition 2021 provides an ideal promotional environment with a whole range of fascinating opportunities for the integration of advertisements into the domains of print, digital, event and content.
Originally from Zürich, where he studied photography, but now dividing his time between New York and Los Angeles, Urs Fischer is considered to be one of the most successful artists of his generation – and is also known for his large-size works. The images are huge and his sculptures play fast and loose with dimensions and scale.
Click here to go to his official website.
Publication day: Tuesday, 1 June 2021
Advertisement and print material deadline: Thursday, 27 May 2021 until 2:00 pm
Swiss edition
Price b&w/colour
Full edition
Price b&w/colour


1/1 page
(1st ad page after fake cover)


1/2 page landscape
1/2 page landscape, next to text
291 × 218 mm
291 × 218 mm

1/3 page landscape, next to text

1/4 page landscape
1/4 page landscape, next to text
291 × 108 mm
291 × 108 mm



Millimeter rate
Advertisement
under advertorial content
Ads
All rates in CHF, gross, exc. 7.7% VAT
The Art Edition will also be spectacularly staged on nzz.ch. All articles and image integrations will be integrated in the "Feuilleton" section and partly also on the homepage.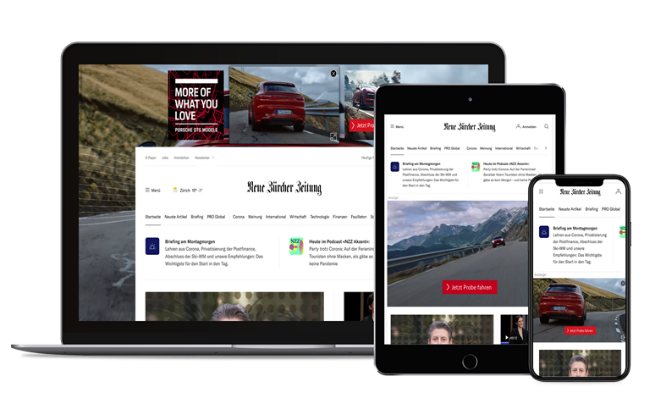 Branding page skin multi-device on nzz.ch
Version 1:
24 hours multi-device on the nzz.ch home page,
advertising value: CHF 20 000.00
Production of promotional material: CHF 890.00
Version 2:
1 week multi-device in the "Feuilleton" channel on nzz.ch
advertising value: CHF 20 000.00
Production of promotional material: CHF 890.00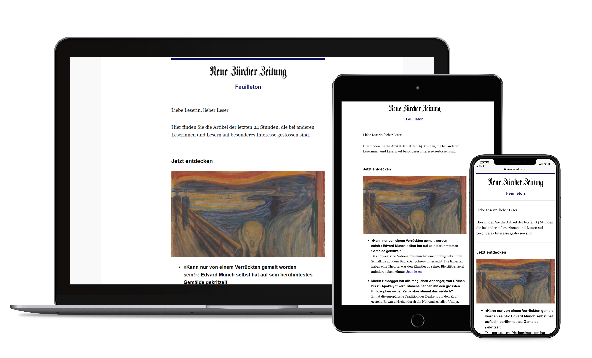 NZZ Feuilleton newsletter
Native or picture ad for one week (Monday – Saturday) in our NZZ Feuilleton newsletter. The newsletter reaches 48,960 contacts every week in mailshots.
Price: CHF 2 500.00
All rates in CHF, gross, exc. 7.7% VAT
In the evening of June 1 we will be joining in the celebrations to mark the launch of the Art Edition. Accompanied by selected exponents of contemporary art in the new gastro-restaurant «NZZ am Bellevue». The evening will be organised and managed by NZZ Connect. Along with the presence of the artist and gastronomic treats, the evening will also be enlivened by the immersive 360° projection staging selected works by Urs Fischer.
The event can also be the perfect setting for staging your company and its products. Let us know your requirements and we will prepare a quotation specially for you.
Exclusive impressions of our interactive event venue «NZZ am Bellevue»
Take advantage of NZZ Content Creation expertise and benefit from our unique combined edition discount for the "Neue Zürcher Zeitung" and nzz.ch.
Sponsored content is prominently featured in on-line teasers for one week: Home page (24 hours), Business Click, Facebook paid post and newsletter bundle. We guarantee a total of 6,500 engagements.
Sponsored content on 1 June 2021 can only be booked exclusively for one partner and offers the opportunity to position oneself also in the Art Edition environment in terms of content.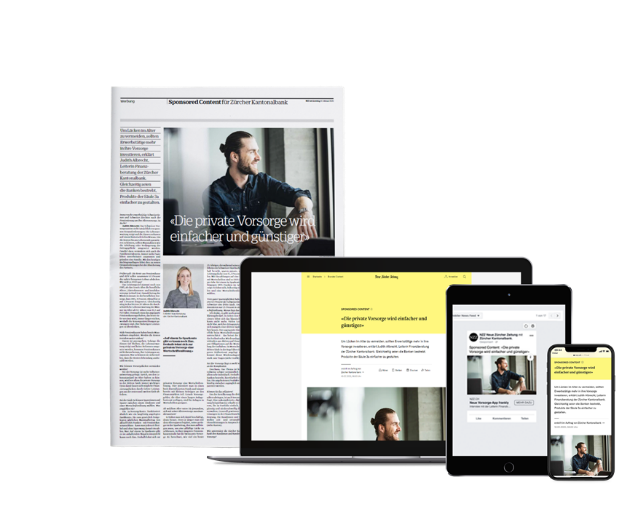 Sponsored content "Two in one"
1/1 page in the "Neue Zürcher Zeitung" and sponsored content on nzz.ch for one week.
Content researched and created on behalf of the client by NZZ Content Creation; inc. proof-reading, exc. image material.
Package price: CHF 35 875.00
All rates in CHF excluding 7.7% VAT. Combined edition discount for print and digital already included in the price. Further discounts subject to negotiation.
NZZone
Our Key Account Manager will be happy to assist you.
Andrew Schuster
International Sales Manager
+41 44 258 12 63
andrew.schuster@nzz.ch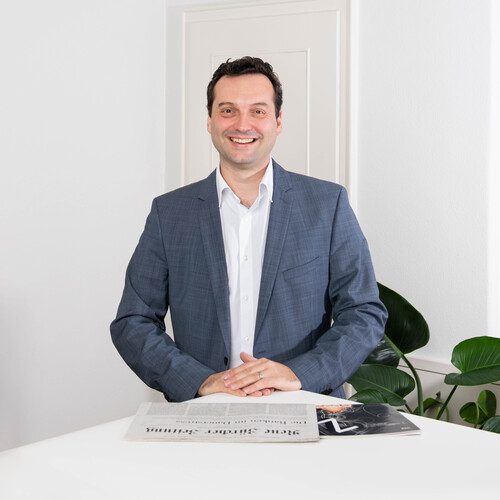 Newsletter registration
With the NZZone newsletter we regularly inform you about our activities and news.