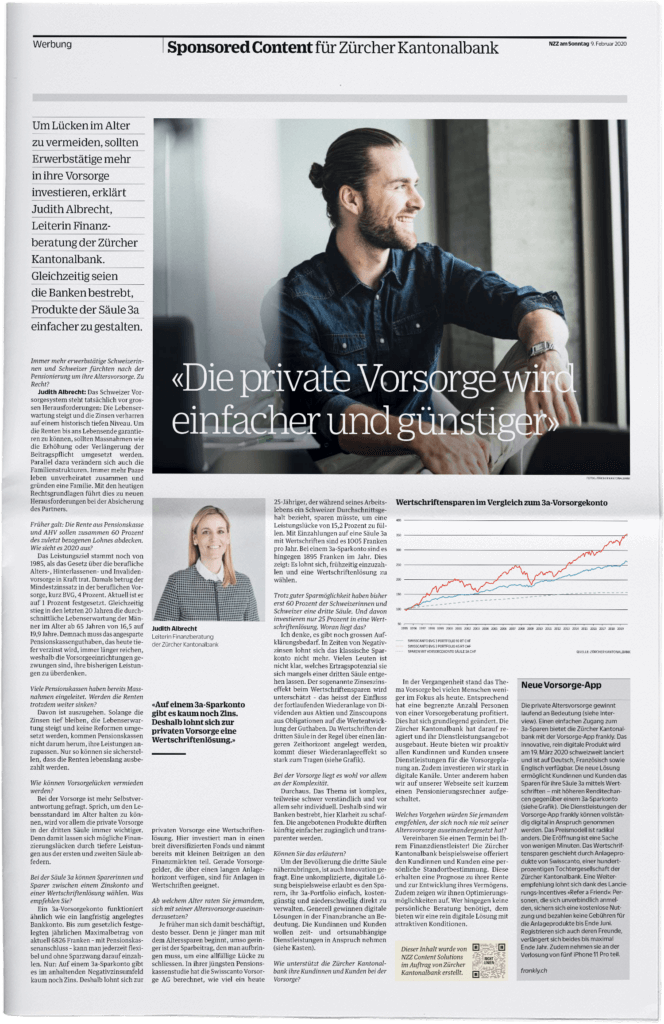 Sponsored Content (Print)
Neue Zürcher Zeitung / NZZ am Sonntag / NZZ am Sonntag Magazin / Z / NZZ Folio / NZZ Residence
Clear identification of advertising
We attach importance to making advertising which appears in article form easily recognisable by clearly marking the article as advertising. In print versions the header states that sponsored content is advertising. The mandatory Guidelines for this are integrated as a QR code. On text pages of this nature, we specify the customer both in the header and in the footer, there additionally highlighted in colour – the same applies to the QR code.
Differences from advertorials
Sponsored content is a form of advertising with the «look & feel» of the carrier medium, presented as an article that must meet high quality standards and is not written by the editorial team. In publications of all brands from NZZ these stories are created exclusively by NZZ Content Creation. Advertorials – so-called online promoted content – on the other hand, may not be designed in the layout of the respective carrier medium, nor may fonts and columns be copied. Generally, such text advertisements are supplied by customers in finished form.
On offer for
Neue Zürcher Zeitung / NZZ am Sonntag / NZZ am Sonntag Magazin / Z / NZZ Folio / NZZ Residence
Newsletter registration
With the NZZone newsletter we regularly inform you about our activities and news.