Together we are shaping the future of marketing
NZZone and audienzz, the two marketing organisations of the NZZ Group, plan to collaborate even more efficiently for their clientele – and that was not the only reason they recently spent an intensive workday near Zurich Zoo.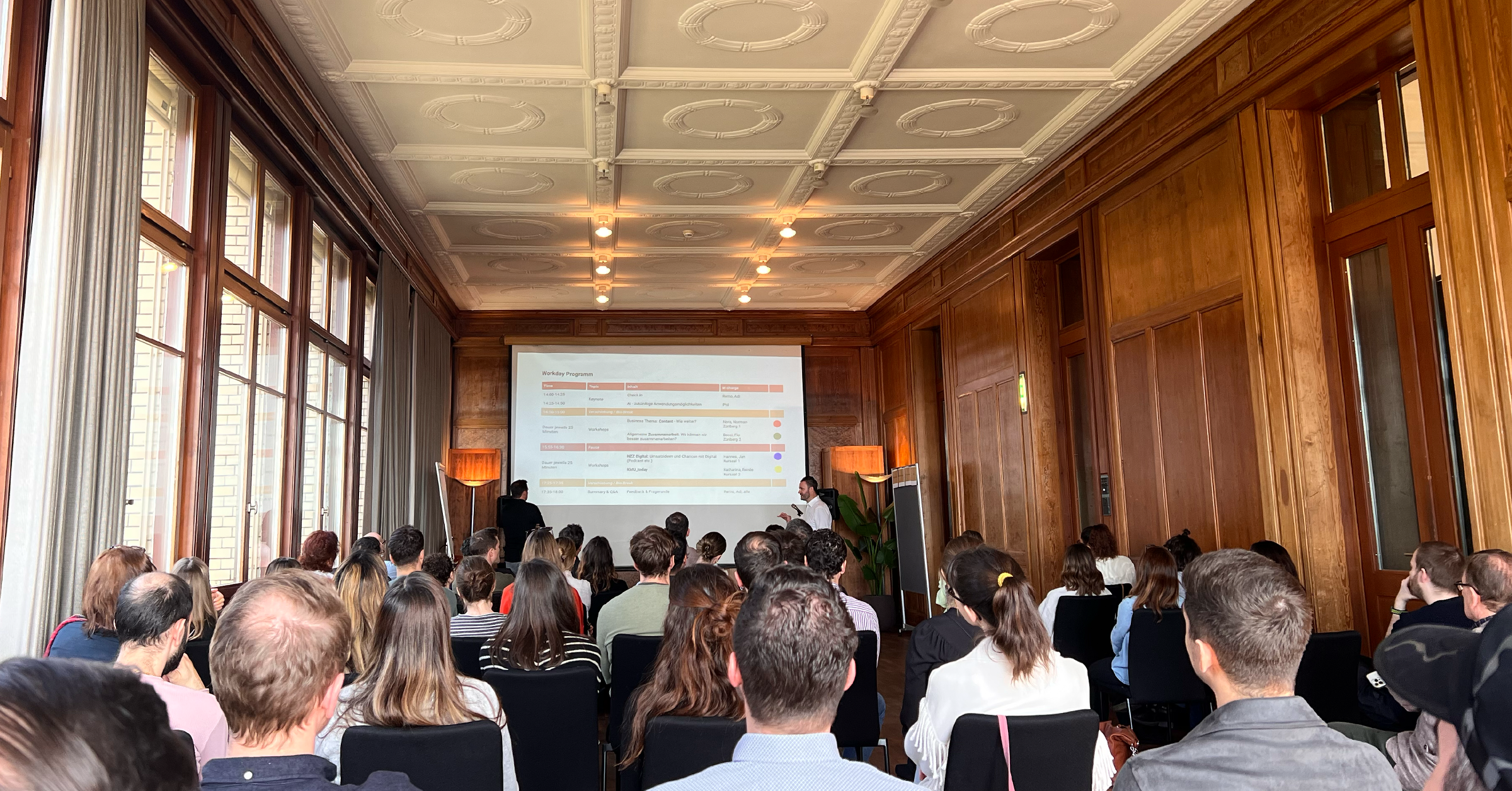 «What belongs together is now growing together»: these words describe what stood right at the top of the agenda on the first external workday of NZZ's two in-house marketing organisations. Although audienzz, founded on 1 April 2016, and NZZone, launched on 1 April 2020, appear on the market as independent units, they have been operating hand in hand behind the scenes right from the beginning – primarily for the benefit of their customers. Both teams have room for improvement when it comes to a mutual exchange of ideas. But that cannot happen without a kick-off event so they can get to know each other. With this in mind, a total of about 70 staff drawn in equal numbers from each organisation met near Zurich Zoo on 28 March 2023.
First the work, …
It was therefore only right that the time spent together at the Sorell Hotel Zürichberg from 2 pm to 6 pm was to be used constructively. After an inspiring intro by Remo Baumeler (CEO of audienzz and NZZone) and Adrian Näf (Business Director of NZZone), it was time for a lively keynote speech by Philip Zeidler (Head of Programmatic at audienzz): he gave the audience an understanding of what artificial intelligence is already capable of doing today, and not what it will have learned by the day after tomorrow. It is incredible how easily ChatGPT can already be used to respond to a business email, or how Movio can turn a written text into an oral presentation or commentary – and even in a dialect.
In the next stage the audience passed through four 30-minute workshop stations during which the key component was a frank discussion aimed at promoting creativity and innovation to shape their combined marketing efforts in the future: 1. More efficient collaboration, 2. Ideas for NZZ Digital, 3. Ideas for KMU_today, 4. New content approaches. Attendees were divided into very varied working groups for this stage: their composition ranged from the Key Account Manager at NZZone and Digital Success Manager at audienzz plus the Operations, Marketing, Business Development, Product und Technology Managers of both units as well as the brains behind NZZ Content Creation or Sustainable Switzerland.
… then the pleasure
The last 45 minutes were dedicated to short workshop summaries given by the two moderators from NZZone and audienzz as well as a Q&A session on these and other topics which were then discussed in more depth over an aperitif. After 7 pm, people headed for Restaurant Altes Klösterli where the social part of the workday was finally on the agenda. The attendees ate, drank, chatted and made plans – both for further combined discussions and for projects for our customers. To be continued …
NZZone
NZZone is the agile, proficient and content-driven marketing organisation of all the brands of the NZZ for customer presentation in the premium segment – specialising in vertical service packages in relevant thematic environments for suitable target groups. NZZone is also the exclusive partner and point of contact for the nation-wide marketing of the print titles of «Le Temps» and «Corriere del Ticino».
audienzz
The digital advertising specialist audienzz is the leading provider of premium environments in Switzerland. The company, which is 85% owned by NZZ, markets over 340 websites and offers agency services in the online sector. In addition, audienzz offers specially developed tools and services for the entire digital advertising market.