This is what sponsored content is all about – a few examples
Content-driven advertising in the «look & feel» of our carrier media is in demand – more than 100 requests for this type of advertising in the past year substantiate this claim. The team of NZZ Content Creation set to work on behalf of these partners, among others.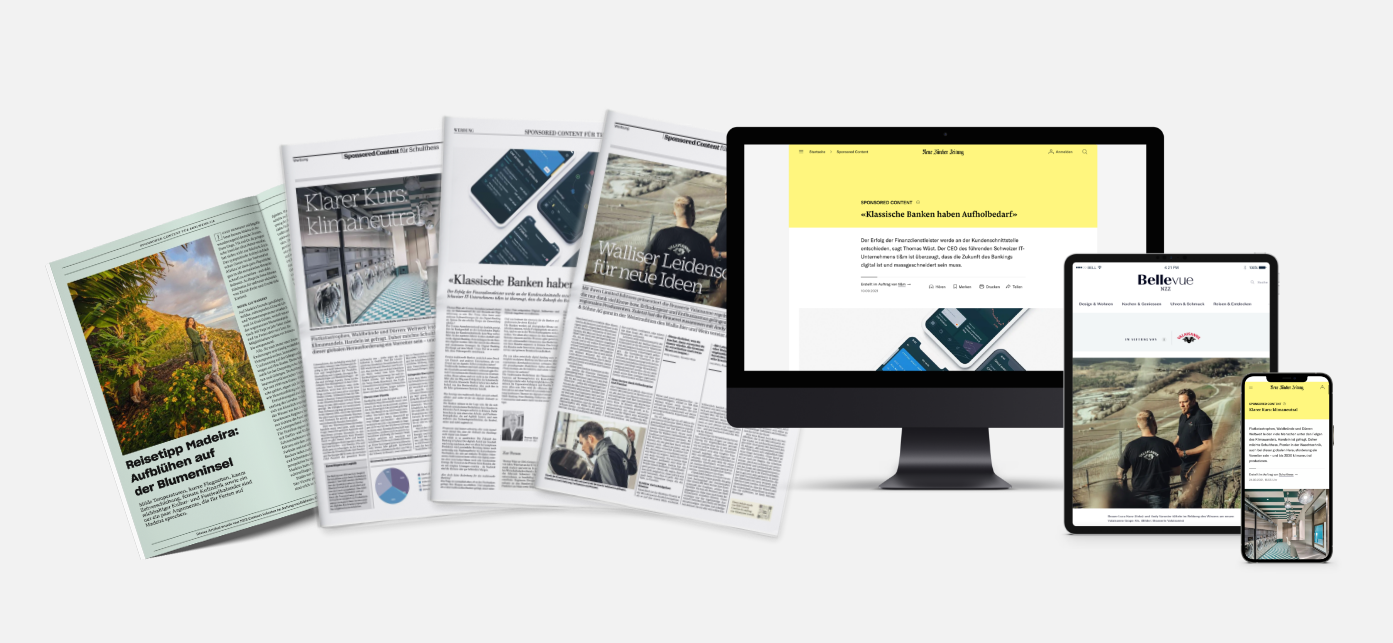 As well as classic native advertising, NZZone offers sponsored content, a cross-media exclusive feature which it creates specifically for a client to make a visual and content-based impact but which remains within well-defined guidelines. This type of promotion is created exclusively by NZZ Content Creation, our service provider for journalistic storytelling. We give you a glimpse below of a few examples we created in 2021 with the same content in both print and digital media.
Edelweiss Air: «NZZ am Sonntag Magazin» and «NZZ Bellevue»
The message: «Moderate temperatures, short flying times, almost no time difference, haute cuisine plus an extensive calendar of cultural events and festivals are just a few of the reasons why you should spend your holidays on Madeira.»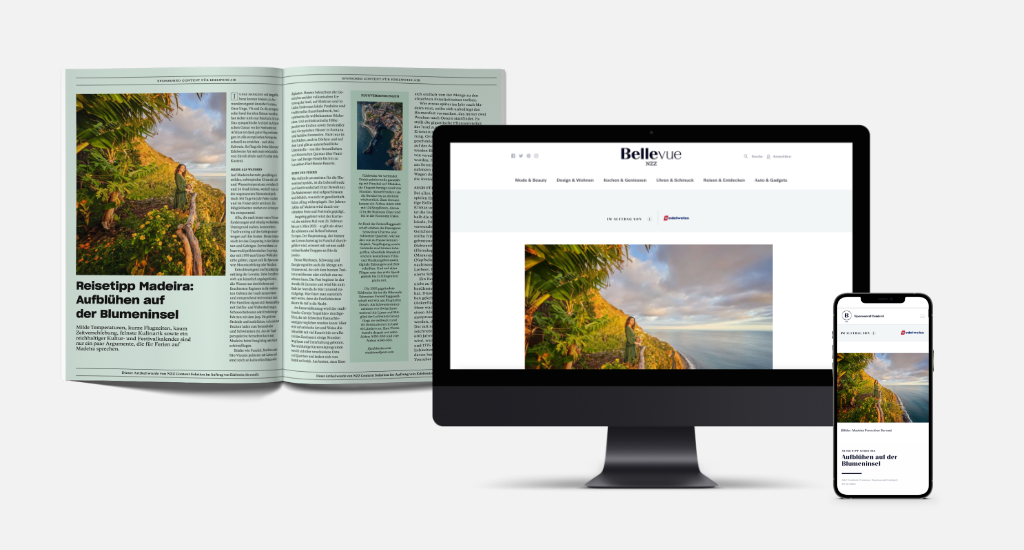 Schulthess: «NZZ am Sonntag» and nzz.ch
The message: «Floods, wildfires and droughts: Large numbers of people across the world are suffering from the consequences of climate change. Action is needed. Therefore Schulthess, a pioneer in washing technology, also intends to be a pioneer in meeting this global challenge by achieving climate-neutral manufacturing no later than 2030.»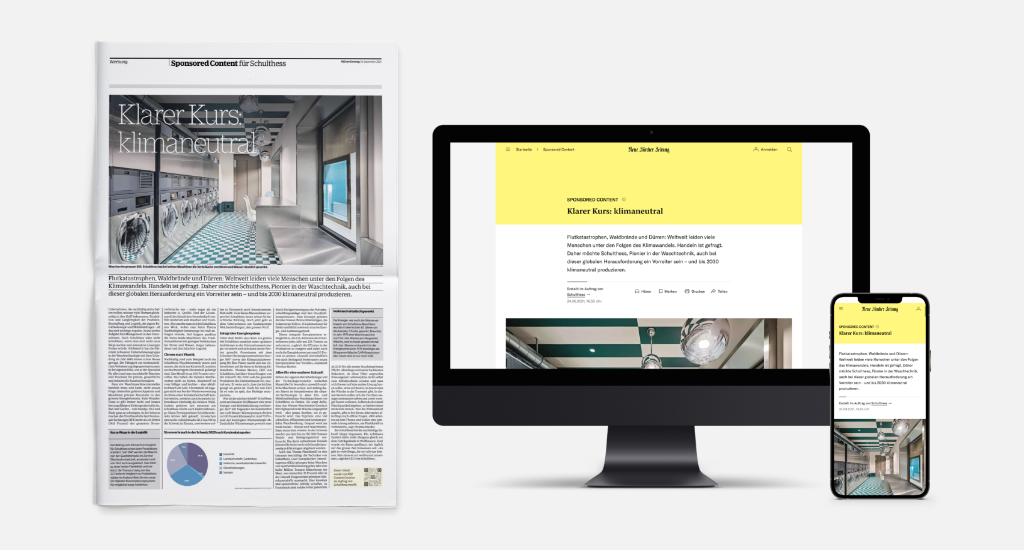 ti&m: «Neue Zürcher Zeitung» and nzz.ch
The message: «The success of financial service-providers will be decided at the interface with clients, according to Thomas Wüst. The CEO of the leading Swiss IT company ti&m is convinced that the future of banking is digital and must be custom-made.»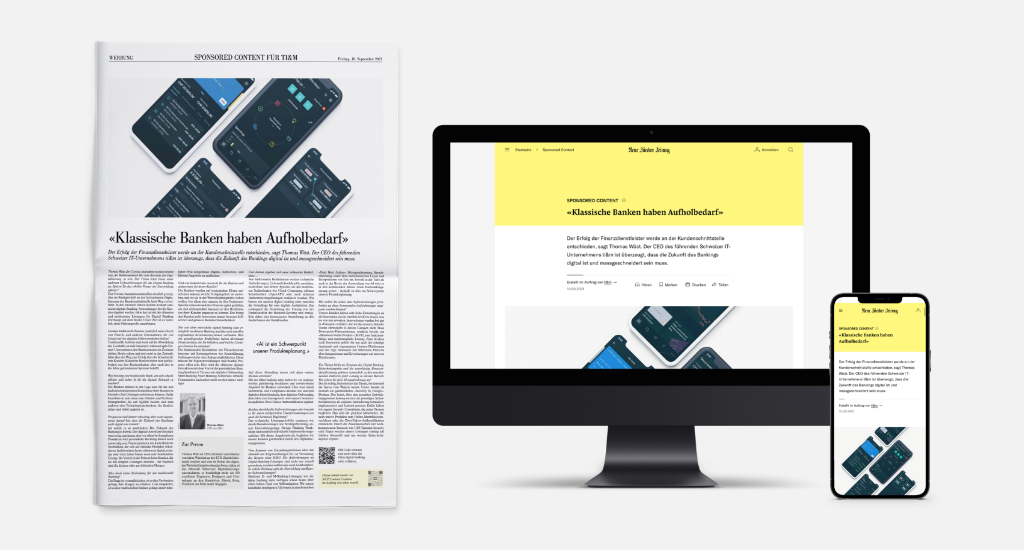 Valaisanne: «NZZ am Sonntag», nzz.ch and «NZZ Bellevue»
The message: «The Brasserie Valaisanne regularly launches unusual creations, often in partnership with local producers, in the form of its «Limited Editions» which draw on a wealth of know-how, inventive talent and enthusiasm to achieve success.»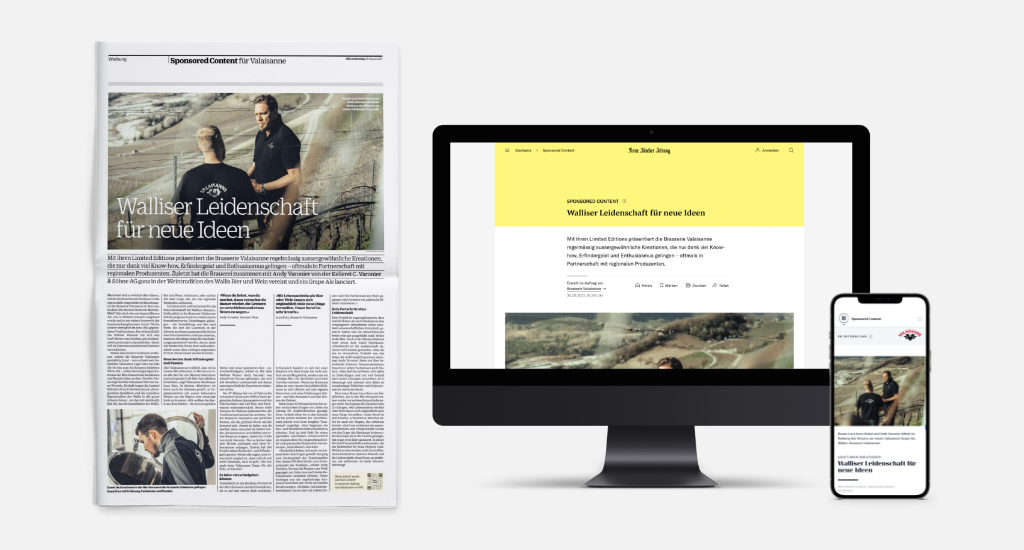 And as befits a cross-media offer, there is no restriction when combining the carrier media. The following titles are available in the print sector: Neue Zürcher Zeitung, NZZ am Sonntag, NZZ am Sonntag Magazin, Z, NZZ Folio and NZZ Residence. In digital form the following are available for selection: nzz.ch, NZZ Bellevue, KMU_today. And the big package advantage: You only pay for the costs of content creation once – no matter how many carrier media you combine.
Any questions? The NZZone Sales Team will be happy to tell you more!